---
Senior Investment Executive
Published: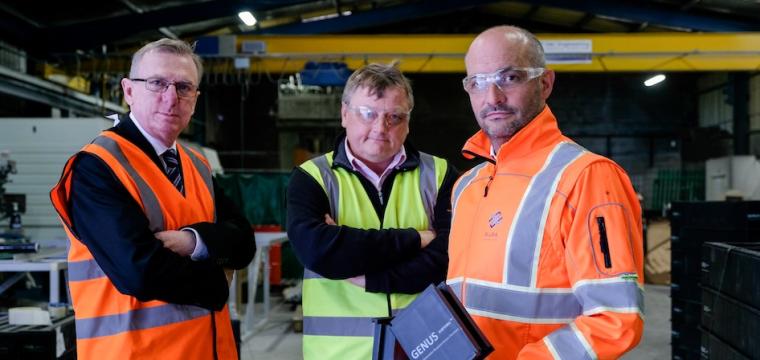 A company which develops products made from recycled plastic and composite materials is expanding its UK manufacturing facility with backing from NPIF - FW Capital Debt Finance, part of the Northern Powerhouse Investment Fund (NPIF).
Wirral-based Plura Innovations supplies products to customers including Network Rail, Royal Mail and UK Power Networks.
The company has received a £350k investment as part of a £1m funding package which will be used to invest in the manufacturing facility in the North West and create local jobs. Until now, a facility in China has been used for the bulk of production.
Plura was set up in 2013 and is headed by managing director Andrew Wright and co-directors Graeme Pringle, Colin Laidlaw and Greg Parkin. Turnover at the company which employs 20 staff reached £1.2m last year and is expected to double this year. 
Andrew Wright said: "Bringing our manufacturing back to the UK brings production closer to what will be our largest market and also cuts costs.  We can also control the raw materials better as they are more readily available and much better quality here.
"Our products include innovative security fencing made from lightweight composite materials which are very safe to use as they don't conduct electricity.  This is really important particularly to companies that have workers on sites and members of the public nearby, where there is a high risk of electrocution such as in the rail and power sectors."
"We needed funding to enable us to increase our manufacturing capacities and capabilities and invest in live testing sites so that we can demonstrate the products to potential customers. This facility means we can now launch our lightweight but strong pre-formed access chamber system in the UK which previously was only available to overseas customers.
"We expect to see strong growth over the next two years with business increasing significantly."
"FW Capital has been very supportive and we're delighted to receive investment through NPIF. Simon has been of great assistance not just financially but also in his advice and experience in and around the financial markets."
Simon Berry, Senior Investment Executive at FW Capital said: "Plura has been set up by a high calibre management team all of whom come from large companies in this sector and bring with them a wealth of experience and expertise. They are also extremely committed having injected a significant sum of their own cash towards building up the business and we were therefore very happy to add our support through this investment.
We are very interested in speaking to businesses like Plura that use technology and innovation to create cutting edge products. It is sometimes difficult for these companies to access finance which highlights the importance of alternative funding sources like NPIF."