---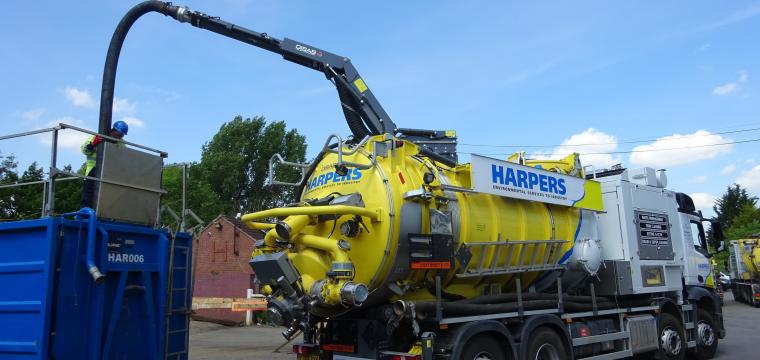 Industrial services and waste management solutions firm Harpers Environmental Limited has secured a six figure investment from NPIF – FW Capital Debt Finance, managed by FW Capital and part of the Northern Powerhouse Investment Fund (NPIF).
The Billingham-based firm has received growth capital funding that will be used to expand and accelerate its operations in the region and create more jobs.
Harpers was originally established in the 1940s. With offices in Teesside and York, the company is a widely-recognised brand operating in a growing market. It employs circa 90 people and last year had a turnover of more than £11m.
As an award-winning business, Harpers is regarded as a leader in the field of industrial services and waste management with a reputation for first-class service in industrial cleaning, waste removal, and waste disposal.
Harpers has recently risen to the various challenges of the Covid-19 crisis. The firm has been working with other regional businesses to deliver the waste and environmental services needed to keep firms running, including those in the food industry and water authorities, with vital septic tank cleaning and disposal services for private households and small business customers.
The deal was facilitated by FW Capital investment executives Steve Teasdale and Anne Blanden.
Steve Teasdale, Investment Executive, at FW Capital, said: "We are delighted to enable such a successful business to take advantage of the growth opportunities that will create new jobs and safeguard many more in Tees Valley.
"Harpers do an incredible job and this has been reflected recently through their vital contribution to supporting other businesses on Teesside to continue to operate during the Covid-19 crisis. This type of joint effort shows how the business network is pulling together and helping each other and the communities they work in."
Gordon Mackay, Harpers Environmental Managing Director, said: "We are delighted to have received this investment from FW Capital, which will enable us to secure and further grow long-term contractual arrangements with the proponents in the Petrochemical, Utilities and Waste Management sectors, employ more people over time and continue to grow our business. We are very grateful to FW Capital for their help and support."
Tees Valley Mayor, Ben Houchen, said: "We may be in unusual times at present, but there are still so many businesses in my region working hard and doing incredible things. Harpers is an example of one, delivering the waste and environmental services needed to keep firms running throughout this uncertain time. "Harpers is yet another firm investing, growing and creating good quality jobs for local people in Teesside, Darlington and Hartlepool."
Grant Peggie, Director at the British Business Bank said: "It's important that NPIF fund managers continue to provide vital investment to firms such as Harpers seeking capital to grow, particularly in the current climate. To see another NPIF backed business make a difference to the Tees Valley area, creating jobs and investing in growth is really encouraging and shows how important the fund is for the North's economic prosperity."