---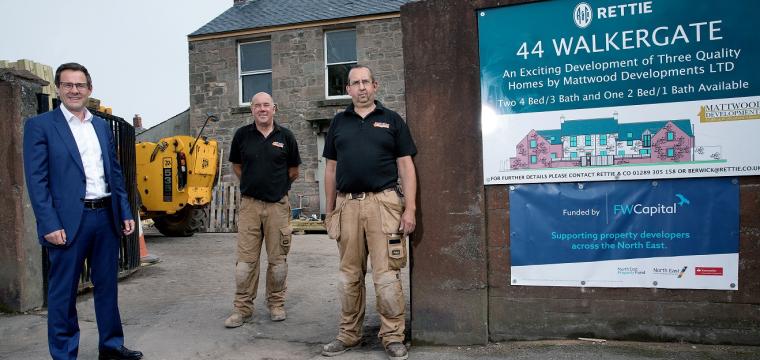 Like many areas in the UK, North East England has a growing need for more high-quality and affordable housing.
The North East Strategic Economic Plan sets out the aim to build 6,000 housing units per year until 2024 to meet demand, respond to demographic changes, and ensure there are attractive housing options for current and potential residents. Increasing the availability of industrial and commercial property is also key to job creation and the economic growth of the region. 
It's not only major property developers that are helping to meet this demand. Smaller construction and property development companies are playing a crucial role through designing and building bespoke projects in the region.
However, raising capital to get these projects off the ground can sometimes be challenging. For a smaller business, it can be difficult to access development finance from traditional sources. This is where the North East Property Fund comes in. Difficulties in securing funding are also being heightened by the current Covid-19 situation.
However, for the North East Property Fund, it is very much business as usual, as it continues to support local developers through this time, with unchanged and competitive pricing, and funding up to 24 months. The construction sector has a critical part to play in economic recovery, with the government announcing a commitment to 'build, build, build' and backing a Construction Talent Retention Scheme. The North East Property Fund is there and ready to be utilised by developers in their ambition to improve the built environment within the North East and sustain local employment.
Read on to find out more about what the North East Property Fund is and how it's helping small-scale schemes throughout the North East. 
What is the North East Property Fund?
The North East Property Fund is a £10 million fund, conceived and managed by FW Capital and backed by the North East Local Enterprise Partnership and Santander. It was set up with the aim of supporting the development of small-scale property schemes, which may otherwise have struggled to get the finance they need.  
The fund offers development funding to SME house builders, construction and property development companies to bring forward residential and non-speculative commercial development projects in the North East LEP area. This covers the seven local authority areas: Northumberland, County Durham, Gateshead, Newcastle upon Tyne, North Tyneside, South Tyneside and Sunderland. It can be used for:
•    New housing schemes
•    Refurbishment schemes
•    Mixed use schemes
•    New office, industrial and warehouse developments
•    Phased developments
The fund can reinvest returns into future projects, with the potential to provide over £30 million of finance over the next five years.
What are the key features of the fund?
•    It offers short-term loans between £250,000 and £1 million
•    Loans are to fund development costs
•    Repayment terms are available up to two years
•    There is no minimum size of development
•    Interest roll up is available
•    Interest rates / fees are agreed in advance  
How is it helping?  
So far the fund has supported the construction of 65 new homes, over 18,500 square feet of commercial space, and has helped to create nearly 90 jobs. It has safeguard 8.5 jobs in developer businesses in addition to over 50 jobs in the sub-contractor network working on these projects. FW Capital has worked with sixteen developer businesses and has invested a total of £7 million through the fund.
One North Property Ltd, a North Yorkshire-based residential company specialising in new build homes and barn conversions in rural locations, is one of the businesses that has secured investment from the fund. It used a short-term loan of £690,000 to finance the construction of three homes in the rural village of Whorlton, near Barnard Castle, County Durham. This was the first project the North East Property Fund had funded in Teesdale, and highlighted how the fund can provide smaller construction firms with the investment to build vital new housing in rural areas.  
Another company that has recently utilised the fund is Mattwood Developments Ltd. It secured a loan for the redevelopment of a historic farmhouse at 44 Walkergate in Berwick's town centre. The farmhouse, which dates back to the 19th century, had fallen into disrepair in recent years. But thanks to the FW Capital investment, the first in North Northumberland, a full renovation of the farmhouse is to be carried out, alongside the construction of two new homes. 
David Pesarra, Investment Executive on the North East Property Fund at FW Capital, says: "By unlocking finance for smaller property developers, the fund is helping to tackle the need for more high-quality residential and commercial properties across the North East. This in turn is driving economic growth, including local job creation.
We're delighted that nine property development companies have already benefited from the fund, using the finance for projects that will have a positive impact on local communities for years to come. We are continuing to work on new opportunities during this time, and welcome more property developers to get in touch and see how we can help."
If you're interested in learning more about the fund and how we can support property developments in the North East, get in touch with Tony Cullen or David Pesarra from our property team via [email protected] or [email protected]k.