---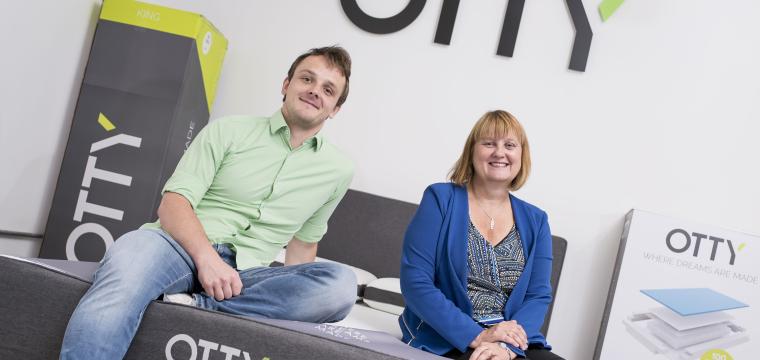 A fast-growing ecommerce business is expanding into Europe following a six-figure investment from FW Capital - Debt Finance, part of the Northern Powerhouse Investment Fund (NPIF).
Bed-in-a-box mattress retailer OTTY Sleep secured the investment from fund management firm FW Capital, as part of its drive to export outside of the UK.
Based in Leeds, OTTY Sleep was launched in 2016 by young entrepreneur, Michal Szlas. The company is focused on the rapidly changing mattress market and delivers high quality OTTY-branded mattresses direct to customers' doors across the UK and soon Europe.
The investment will support OTTY's growth capital needs and increase its product offering, as well as aiding its growing presence in the B2B trade.
Michal Szlas, CEO and Founder of OTTY Sleep, said: "At OTTY, we've seen a huge growth over the past 12 months, which has resulted in a record year-on-year turnover. We've also been able to hire a skilled team to manage this expansion, and are well underway with extending our range of products.
"However, the European expansion, introduction of new products and an increase in the B2B trade all have an effect on our cash flow – an aspect which is an essential part of any business, especially a young start-up that has not had the sufficient time to raise the total capital to help the company grow. We are excited to work with FW Capital, as we know it's a move which will ultimately allow OTTY to continue its natural growth."
Nicky Atkinson, Deputy Fund Manager at FW Capital, said: "Growth capital is critical to all businesses and especially fast growing companies like OTTY.
"OTTY's growth trajectory is impressive and we are confident this will act as the stepping stone for its expansion into Europe."
Princelet Partners, a leading corporate finance firm, acted as the sole finance advisor to OTTY.
Alistair Thomas, Director, Princelet Partners, said: "We are delighted to have worked with the team at OTTY and FW Capital are a great fit as a finance partner for the company. OTTY continues to make impressive progress and we look forward to supporting Michal and his team on their future growth plans."
Mark Wilcockson, Senior Relationship Manager at British Business Bank, said: "The North is home to a number of high-potential businesses that, with the right backing, can achieve their growth objectives. OTTY is a prime example of this, and we are pleased that this NPIF investment will support the team in broadening the product offering and strengthening its presence in the market."
Operating from the British Business Bank's Sheffield head office, the Northern Powerhouse Investment Fund provides a mix of debt and equity funding (£25,000 to £2m).  It works alongside ten Local Enterprise Partnerships (LEPs), the combined authorities and Growth Hubs, as well as local accountants, fund managers and banks, to support Northern-based SMEs at all stages of their development.
The Northern Powerhouse Investment Fund project is supported financially by the European Union using funding from the European Regional Development Fund (ERDF) as part of the European Structural and Investment Funds Growth Programme 2014-2020 and the European Investment Bank.
For more information about Northern Powerhouse Investment Fund, please visit http://www.npif.co.uk/.