---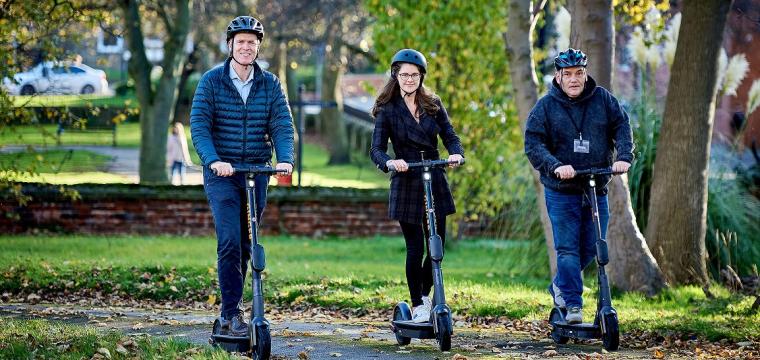 We share relevant third party stories on our website. This release was written and issued by the Northern Powerhouse Investment Fund.
As it reaches the fourth anniversary of its launch, the Northern Powerhouse Investment Fund (NPIF) is celebrating having directly invested £237m across 1,068 deals. To date, these investments have attracted an additional £288m of investment from the private sector delivering over £500m of funding to Northern small businesses.
NPIF was launched in 2017 by the British Business Bank using funding from the European Regional Development Fund (ERDF), HM Government and the European Investment Bank. NPIF forms a key part of the Bank's activities to back the Government's Levelling Up agenda by helping to reduce regional funding imbalances and create economic prosperity in the North of England. 
Initially a £400m fund, the Chancellor committed an additional £100m to NPIF in 2020, making £500m available for investment. 
Over the last four years, NPIF has worked closely with the North's 10 Local Enterprise Partnerships (LEPs), Growth Hubs, Combined Authorities and fund managers to support small and medium businesses across the North West, Yorkshire & Humber and Tees Valley regions. 
NPIF funding options include microfinance between £25,000 and £100,000, debt finance between £100,000 and £750,000, and equity finance up to £2m. Over the last year our fund managers have provided Covid-related support, including NPIF loans backed by the government's CBILS scheme, and access to the Government's Future Fund. 
Recent deals include Liverpool-based international chemical technology business, Chirochem. The business recently secured £1m in funding from NPIF – Maven Equity Finance, alongside £1m from the Government's Future Fund, enabling it to scale its operations and continue to discover and develop high-quality drugs for pharmaceutical companies around the world. This follows previous NPIF equity funding into the company, taking the total invested to £1.7 million. 
NPIF has also invested in Additive Manufacturing Technologies (AMT), a Sheffield-based 3D print equipment company, which raised £2.5m in its latest funding round. This included funding from NPIF – Mercia Equity Finance, the Government's Future Fund and other investors.
NPIF supports organisations across a wide range of sectors, including eco-friendly e-scooter firm Ginger, which sought funding to expand its operation across the Tees Valley. The company secured a £500,000 investment from NPIF – FW Capital Debt Finance, after launching its first e-scooter rental trials in the UK in Tees Valley last summer.
Chester based Athlete Factory, a high-level fitness and sports performance company which offers its clients the coaching and equipment they need to train to the highest standard recently received a six-figure NPIF loan backed by CBILS from NPIF – BSF & MSIF Microfinance, managed by GC Business Finance and MSIF.
Roger Marsh OBE DL, chair of the Leeds City Region Enterprise Partnership (LEP) and chair of the NPIF strategic oversight board, said: "I have seen first-hand the difference the Northern Powerhouse Investment Fund has made to the region's economic development over the past four years.  
 "Alongside funds from the private sector, to date it has invested over half a billion pounds, backing innovative businesses to help create new jobs and level up the North.  
 "With support from institutions like the Northern Powerhouse Investment Fund, the North has the potential to take a leading role in the recovery and as the UK builds new trading relationships with the rest of the world." 
Asif Hamid MBE, Chair of the Liverpool City Region Local Enterprise Partnership (LEP), said: "Small businesses are the backbone of our economy and the Northern Powerhouse Investment Fund has provided valuable support to our business community since its launch in 2017. By helping innovative and ambitious companies such as ChiroChem grow and invest NPIF has had a fantastic impact on unlocking business potential and creating jobs in the City Region and I am delighted to welcome their four-year milestone.
"It is also good to see NPIF providing funding support for businesses in the region that have been impacted by the COVID-19 pandemic."
Catherine Lewis La Torre, CEO at British Business Bank, said: "From supporting businesses through the challenges of the last year to driving growth and innovation across a wide range of sectors, NPIF has had an immeasurable impact on the North's business community over the last four years.
"Since joining the NPIF Strategic Oversight Board last year, I have been impressed by the resilience and ability to adapt shown by small businesses across the North. We've worked with so many inspirational and forward-thinking business leaders over the years, and there is no doubt in my mind that continuing support for our region's community of businesses will be key to building back even better and even stronger." 
The Northern Powerhouse Investment Fund project is supported financially by the European Union using funding from the European Regional Development Fund (ERDF) as part of the European Structural and Investment Funds Growth Programme 2014-2020 and the European Investment Bank.