---
Investment Executive
Published: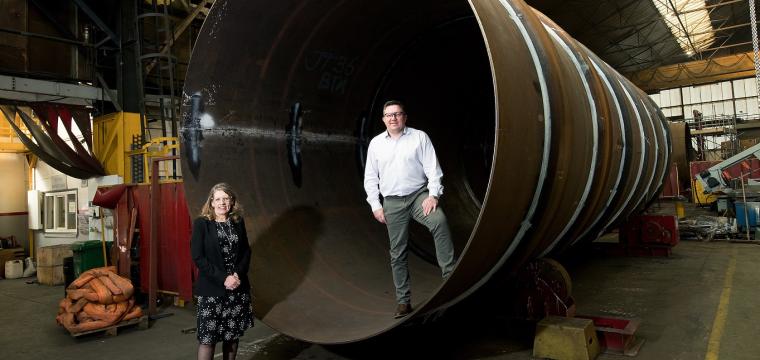 Independent fabrication and engineering firm Francis Brown Ltd has secured major investment to help it join a major mining project.
The Stockton-based firm received a six-figure sum from the £10million Tees Valley Catalyst Fund (TVCF), managed by FW Capital for the Tees Valley Mayor and Combined Authority. The funding will help it to enable it to fulfil its bond requirements for a contract worth over £1m to fabricate 400 metres of mine shaft casings for Strabag AG at the Anglo American Woodsmith Mine project, in North Yorkshire.
This is the second major contract that Francis Brown has secured in relation to the Woodsmith Project, having already fabricated high tolerance steel formwork for casting of concrete for the mine shafts.
The Advance Payment Guarantee and Performance Bond means the company could enter into the contract, to be delivered in April 2021, and retain its working capital.
Francis Brown Ltd was founded in 1903. Now in its fourth generation of family ownership, the business is run by brothers Simon and Jamie Brown and MD Mark Roddy, who was appointed in 2017. The company's services include design and manufacture of pressure vessels, tanks and structural fabrications and their installation at customers' sites.
With a strong heritage of delivering engineering projects in the chemical and construction sectors of the past, the business is forging ahead with world-wide clean energy hydrogen storage and tidal energy projects as well as supporting the construction of the mine. 
Tees Valley Mayor Ben Houchen said: "Francis Brown is a long-established and hugely respected company that works across some of our most important sectors. It's fantastic that it has managed to secure this funding to give it the opportunity to join the huge Woodsmith Mine project.
"This is another example of how our money is being invested to help secure jobs, benefit local businesses and help them to grow. Access to this vital funding is even more important now as we look to recover our economy in the face of the coronavirus pandemic."
Allison Routledge, Investment Executive at FW Capital, said: "We are delighted to provide the investment needed to allow this long-established family business to secure an important contract that will safeguard 73 jobs in Tees Valley.
"We are committed to supporting Francis Brown Ltd so it can continue to win contracts such as this, which provide strong employment opportunities for people in the area."
Jamie Brown, Francis Brown Ltd CEO, said: "Despite the significant impacts of Covid-19, we continue to deliver excellent results and remain resilient in these uncertain times.
"Securing the backing of FW Capital and the Tees Valley Catalyst Fund enabled us to win this major contract on top of others, safeguard jobs and to continue to grow our business. We are grateful for the support."
The Tees Valley Catalyst Fund has invested £19m, helping businesses win £234m of contracts.
The pioneering fund is designed to help companies bid for work and is backed by the Government's Regional Growth Fund. It advances loans for performance bonds, warranties and guarantees which provide assurance to a client that the supplier will deliver on time and to standard.
The fund offers short-term debt investments from £100,000 to £2 million to support businesses bidding for contracts.