---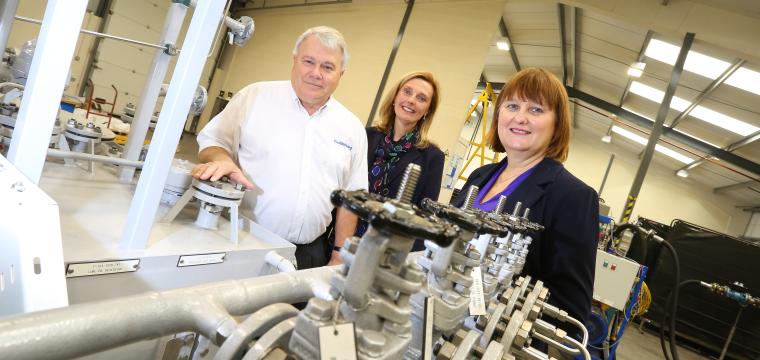 Northumberland-based company WM Coulthard has fully repaid an advanced payment guarantee loan from the Tees Valley Catalyst Fund managed by FW Capital. The investment allowed the company to successfully bid on three contracts worth more than £2.2 million.
Founded in 1888, WM Coulthard designs and manufactures bespoke industrial lubrication systems for a variety of clients.   "Thanks to FW Capital we were able to secure a number of high profile contracts," said WM Coulthard's Managing Director Eric Dodd. "The boost given by the Tees Valley Catalyst Fund loan helped us win these contracts, which were for leading international customers supplying rotary equipment to the oil and gas industry. This has safeguarded a number of jobs in 2015/2016."
"WM Coulthard is a well-established company with ambitious growth plans," said Nicky Atkinson, the FW Capital Investment Executive who structured the deal. "They had a great business plan and successfully tendered for three substantial contracts with our assistance."
Working together for the North East
The £10million Tees Valley Catalyst Fund, managed by FW Capital, offers short term investments to North East businesses to fund warranty bonds, performance bonds and advanced payment guarantees. Loans are offered between £100,000 and £2million.
The Tees Valley Catalyst Fund was conceived by Tees Valley Combined Authority and the Tees Valley Local Enterprise Partnership and is backed by the Regional Growth Fund.  In October 2014 the fund was widened to businesses across the North East and parts of North Yorkshire.
WM Coulthard was introduced to FW Capital by Barclays bank.
"It's great to see an already established business continue to develop and grow in their specialist market," added Karen Gant from Barclays. "This structure means that the company is well placed to maximise opportunities in the sector and illustrates our approach of collaborating with other local funders in order to provide support for businesses in the area."
"We often work closely with other finance providers," added Atkinson. "There is a strong business and finance community here in the North East working together to support local companies. The Tees Valley Catalyst Fund has unlocked over a hundred million pounds of contracts by working with other funders.
What is an advanced payment guarantee?
When companies negotiate an advance payment on a new contract, the customer may require an advance payment guarantee. The guarantee gives the customer confidence that the order will be completed to their specification. If the order isn't fulfilled properly they can claim against the advance payment guarantee. The guarantee is usually given by the supplier's bank on behalf of the supplier and will often require the supplier to provide cash as security. This can impact working capital available to deliver the contract.
FW Capital is able to provide short term loans through the Tees Valley Catalyst Fund to ambitious North East businesses looking to bid on high value contracts where this sort of guarantee, performance or warranty bonds may be required.